OUR SERVICES
Automation, Industrial and Commercial Electric
24-hour Service - Call 585-526-5797
Machinery breakdowns - Power outages - Storm damage
OUR PHILOSOPHY
Sloth Electric is…
The Sloth Electric of today has grown through continuous innovation. Our knowledge and skills keep pace with constantly developing technology to meet our Customers most complex electrical needs, from Automation Controls to Complete Camera Systems.
We strive to build a long-lasting relationship of trust and communication with our customers. Sloth Electric's strength is listening to our customers and individualizing our services according to their needs, large or small. We've been servicing some customers continuously for 40 years. If a customer needs us, we'll be there, 24/7.
Our hard working employees ARE Sloth Electric. They perform quality service every day, regardless of the heat, cold, rain, or snow. We appreciate all they do, so taking care of them and their families has been a priority from the very beginning. We are proud to provide competitive wages, great benefits and maintain a rigorous safety program to get everyone home safe.
Our local community, the Finger Lakes and Greater Rochester area, has had a lot to do with our success and we appreciate that! So whenever we can, we look locally to meet our business needs, from electrical materials to insurance. When you hire us, you help support local businesses and our local economy.
READY TO GET STARTED
CONTACT US
Fill out our contact form so we know how to best assist you. We look forward to talking with you.
OUR HISTORY
Family Owned & Operated
for over 40 years!
Founded by Bruce and Jean Sloth in 1978, and currently run by Douglas Sloth and Todd Rosini, both Master Electricians, each with over 20 years of Commercial and Industrial electrical experience. Our crew includes 14 Full-time, OSHA-10 and MSHA Trained and Certified Electricians.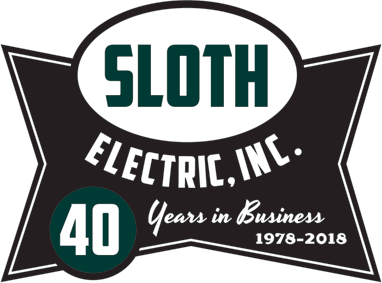 Join Our Team
We are always looking for talented and professional Electricians. Please contact us to find out more.
HOW TO FIND US
Contact Info