Sloth Electric – Commercial & Industrial Electric Services
Throughout our 40 years, our services have expanded based on new technology and the needs of our customers. We would love the opportunity to talk to you about any Commercial, Industrial, or Automation project, large or small.
New Services:
Sloth Electric will coordinate with the Electric company for new or upgraded Commercial/Industrial services up to 4000 Amp, 3-phase 480 Volt.
Recent job example:
CUSTOMER: Industrial Processing Plant
PROJECT: Installation of New 4000 amp service, transformer, vault & switch gear.
Transformers:
We size and install large industrial transformers to step down high voltage to 480V or 240V, to supply industrial facilities.
Backup Generator:
We size and install large industrial backup generators tied into automatic transfer switches, to automatically turn on and start during a power outage.

New Commercial and Industrial Construction:
We offer complete design/build services for electric in new buildings, including interior wiring, lighting, switches, and receptacles, hook up of HVAC equipment, new service, and power distribution.
Recent job examples:
CUSTOMER: New 39,000sq foot Commercial grocery and furniture store
PROJECT: All electric from ground up including new service, parking lot lights, interior, and display lighting, hookup of refrigeration equipment, coolers, HVAC, kitchen equipment, and data for checkouts.
Maintenance Electric:
We perform various electric repairs and upgrades including lighting, power distribution, disconnect and hookup of machinery and motors.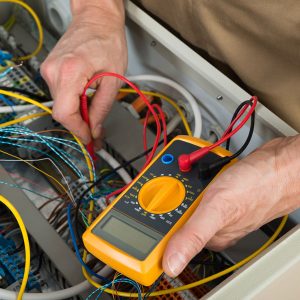 Troubleshooting of Commercial and Industrial Machinery:
We troubleshoot and repair all kinds of industrial equipment utilizing various testing instruments, including electrical meter, laptop computer, megger, thermal image camera. Service calls for breakdowns are available 24/7 to get you back up and running as soon as possible.
Lighting Repair & Upgrades:
Interior and Exterior
Parking lot lights: new pole installation, repair, or upgrade. New lighting or LED upgrades.
High-bay warehouse fixture replacement to LED
Retrofit existing interior fluorescent fixtures with energy-efficient LED bulbs
Replace existing interior or exterior lighting with new LED fixtures
Motion detectors, photo-eye activation, dark sky-friendly fixtures are available.
Recent job examples:
CUSTOMER: Industrial Foundry
PROJECT: 300ft x 100ft storage building light conversion: existing high bay fluorescents were taken down and replaced with 30 – new energy efficient LED high bay lights.
CUSTOMER: Municipal Recycling Facility
PROJECT: Florescent light LED retrofit: Existing 4 ft. florescent lights were retrofitted with LED bulbs that do not require a ballast. Old bulbs and ballast were removed and new LED bulbs were direct wired to 120 volts.
Thermal Imaging
Have you heard of Thermal Imaging? It's been growing in popularity as a tool for industrial facilities!
Thermal imaging is the use of an infrared camera to produce an image based on thermal (heat-based) imaging. This can be useful in Industrial and Commercial settings, to look at the temperature of an object and compare the variations in both electrical and mechanical systems.
Thermal Image scans are done while equipment is running. There is no need to shut down an entire line.
Sloth Electric uses a state-of-the-art Fluke Ti400 Thermal Image camera to perform scans.
Thermal imaging will detect hot spots in panels, disconnects, motors and other equipment
Facility and panel inspections can troubleshoot issues or find potential problems, identifying weakening components before they fail.
Many insurance companies require thermal image scans as a part of an annual inspection of commercial and industrial facilities.
We provide a printed and emailed report of findings, including photographs
Ground Testing
Stone Quarries: 2 point ground testing on all motors mounted on belts, screen, crushers, and baghouses.  We also perform 10-point ground testing to verify proper ground resistance.
Annual inspection and testing of quarry equipment as required by MSHA
Available on request for Industrial facilities
Ground testing equipment is certified annually
24-hour Service Calls
Machinery breakdowns
Power outages
Storm damage
4-hour minimum charge for weekend, holiday and after-hours service calls
Call 585-526-5797
Recent job examples:
CUSTOMER: Local Beverage Company
PROJECT: Emergency call- Power was lost on a Saturday due to a water main leak inside the building. All breakers had to be removed and replaced and panel interior replaced and dried out. Power was restored in 8 hours, saving valuable inventory from spoiling.
CUSTOMER: Local Produce storage facility
PROJECT: High voltage gate tripped at 2 AM, leaving the plant without power. Sloth Electric used a bucket truck to close the gate and turn the power back on.
From new installations to maintenance and repairs 24/7, Sloth Electric is on the job with one call dispatching reliable courteous electricians.
Sheppard Grain Enterprises, LLC has used Sloth Electric as their sole electrical contractor for over 20 years. Our business operates 24 hours per day, and the response time to get help from Sloth Electric has always been very short. Never have we had a problem that they have not been able to troubleshoot and get our equipment back up and running in a very short time.

Sloth Electric has been involved in all of our new projects over the years. They have designed many electrical systems that have cut down on labor due to automation, and have always kept the cost of these projects as low as possible.
As our aluminum recycling company has grown over the past twenty years in Seneca Falls, New York, Sloth Electric has been not only a supplier to us, but we consider them a vital partner. Sloth Electric provides us with the service, support, and knowledge to help us not only compete, but to be leaders in our industry. By helping us minimize downtime and ensuring our controls and processes operate in our challenging heavy industrial environment, Sloth Electric has earned their position on our team. They have been a pleasure to work and I would recommend Sloth Electric to anyone.
READY TO GET STARTED
CONTACT US
In need of electrical service? We provide commercial and industrial electrical services and emergency electrical repair to companies in the Rochester and Greater Finger Lakes Region. If you are ready to discuss your upcoming project needs please call 585-526-5797 (also for emergency/service calls) or fill out our contact form so we know how to best assist you. We look forward to talking with you.
Thank you for your interest in Sloth Electric Inc!